The living room is a shared space right, it is not only a place to entertain guests but also the main activity place for home life and socializing. The living room is the place where the owner's personal taste can best be displayed. Its personality can be expressed not only through decoration materials and furniture but also through "soft decoration" such as various accessories.
The right, suitable living room mirror ideas can transform your space, style, and color. An attractive mirror will not only add accents to the walls but also give the living room a focal point. If you are decorating or are in the process of decorating, check out this article on mirror decoration ideas for living room, maybe you will get some inspiration from it.
10 Charming Living Room Mirror Ideas Worth Considering
Adhering to the concept that living room decoration is very important, we will consider a living room with mirror ideas within the scope. We've rounded up several attractive living room ideas with mirrors. This is a good start.
Strong Sense of Design
A strong sense of design brings a strong impact, contrasting with the pale wall, making the dull wall lively. This is suitable for almost any home decoration, regardless of the color and style of other furniture. This is also my most recommended living room mirror decor. Mirrors that are designed and functional at the same time complement any space. It will give you the illusion of a larger space while also illuminating your dark little corners. Creating the most valuable impact with the simplest effort is what we are after, so this mirror decoration ideas for living room will definitely please you.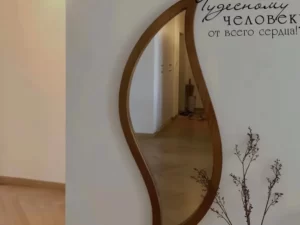 Using A Round Wall Mirror
Classic, timeless is the perfect definition of it. My second living room mirror idea is if you're really struggling with what living room mirror to install, don't hesitate to choose a round wall mirror. It is suitable for any style, any color home decoration style. Like a friend by your side, it's there when you need it and doesn't shine when you don't. The simplest is often the most classic. A round wall mirror can be the best answer for a living room decoration with mirror.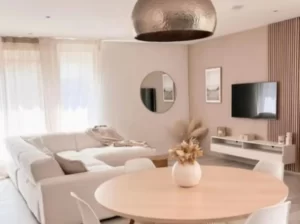 Choosing A Plus Size One
An oversized wall mirror can save you a lot of trouble. This is the third mirror in living room ideas. Yes, bigger is better, as long as you have enough space. This will be an accessory that will surprise you. Imagine installing a huge mirror on a boring white wall without any decorations, without having to worry about choosing other accessories, but also a good integration of furniture style. A large mirror combined with modern decor is one of the best living room mirrors ideas.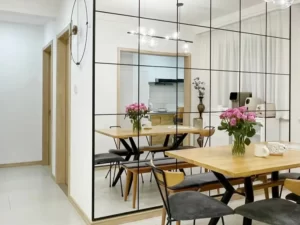 Combination Mirror
Have you ever noticed a few individual small mirrors mounted on one wall? It is the perfect choice for any modern interior. Mirrors can be hung side by side on one of the walls to help create a stylish focal point in the room. What's more interesting is that this combination mirror is not restricted by placement, you can use your imagination to make a wall into a fashionable world.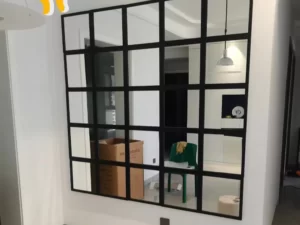 Match With Furniture
What color furniture do you like? Like a sofa? Tables and chairs? Lamps? Pure white or focus on luxurious metallics? My fifth living room mirror decor idea is to match the frame color or material of the wall mirror with the furniture. For example, if the sofa is gray, we can choose a mirror with a lower saturation color. This requires you to take the time to choose furniture, as well as to consider the matching matters.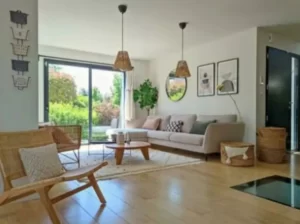 Select An Antique Mirror
Wall mirrors with retro colors are not only suitable for modern decoration but also well combined with classical decoration. Putting an antique wall mirror in any corner of the living room can complement the space. This is a great living room mirror decoration suggestion. All you do is pick a vintage wall mirror you like and find a space that fits. You can hang it on the wall or place it on a corner table.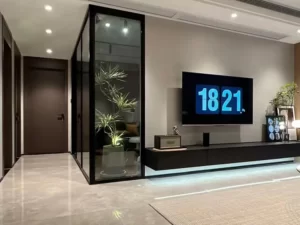 Able to Reflect Light
It's just a living room mirror design that is more difficult to achieve. It requires the mirror to be hung in a position that reflects the light in the living room. This can visually bring more light to the living room, which will make the living room appear larger. But this mirror in living room ideas is picky about where the mirror hangs. If there are no necessary conditions at home, this can be ignored.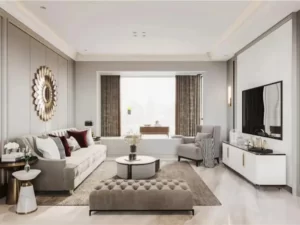 Using A Long Rectangular Mirror
A long mirror can visually elongate your living room. Find a blank wall without any decorations and hang a rectangular wall mirror that can be the length of the sofa or longer than the sofa. Why would there be such a living room mirror idea? Frankly speaking, simplicity and generosity are the most classic and timeless. This design can give you more opportunities to think. In addition, the rectangular mirror will also make the whole living room clean and tidy.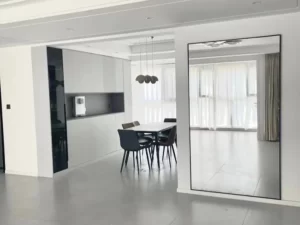 Create Warmth With Wooden Mirrors
Mirrors with wooden frames can easily create a warm and comfortable atmosphere in the space. The minimalist design suits any style of decor. Refined and understated in design, wooden mirrors express lightness and bring a soft and comfortable feel to the living room. The best mirror decoration ideas for living room are to place small green plants around the mirror. The wood material can also reflect the concept of environmental protection and respect for the environment.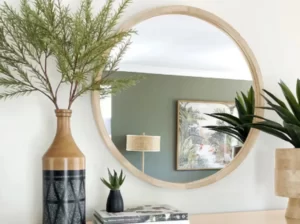 Next to The Window
Placing the living room mirror next to the window allows more light from outside the window to penetrate the interior. This living room mirror decor idea takes full advantage of the reflective power of mirrors and maximizes the use of light to bring more light to the living room.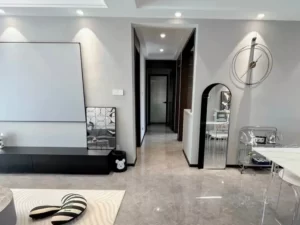 FAQs About Living Room Mirror Ideas
Well, we have collected some great and attractive mirror decoration ideas for living room. If your living room looks boring, a mirror will do most of the problems. A suitable mirror will not only reflect your personality but also your taste. In addition, we have compiled some other questions about living room decoration with mirrors. If you are also confused, read on.
How Big Should A Living Room Mirror Be?
It all depends on the space you leave for the mirror. If the space is large enough, then you can refer to the third, fourth, and eighth suggestions above. If the space is not ideal, you can refer to Articles 2 and 9.
How About A Floor Mirror in Living Room?
Absolutely okay. This is a great mirror decoration ideas for living room. Floor mirrors are suitable for families with little wall space and a need for a practical mirror. Moreover, the floor mirror can observe the whole body, which is very convenient for the final inspection before going out and is very suitable for professional women.
Where to Put Mirror in Living Room?
Hanging mirrors on the wall isn't the only answer. The table in the entryway and on the floor are ideal for placing mirrors. Wall mirrors play a more decorative role and are not very practical. And putting the mirror on the table is a very practical option, you can check yourself at any time. Mirror decoration ideas for living room are not unique.
Final Thought
Overall, all living room ideas with mirrors fit most decorating styles. Mirrors are the most magical and versatile display of all home accessories. Besides being able to provide a focal point, its presence can make your living room bigger, brighter, and more attractive.
The design of every corner of the living room space needs to be considered from many aspects, and it needs to be full of comfort, warmth, functionality, and rationality. This article about mirror in living room ideas hopes to bring inspiration to solve problems for you who are renovating.