Abstract
A gorgeous big standing mirror helps a space look bigger and brighter by allowing you to view yourself and your attire better. Standing mirrors are available in a range of sizes, frames, and mounting techniques. A full-length standing mirror might be the solution for you if you want to view a more comprehensive reflection of yourself and your attire or add a unique touch to your room.
Today, we will be talking about standing mirrors and everything you need to know about them, including the types, where to put them in your space, how to decorate it, and where to buy them.
What are Standing Mirrors?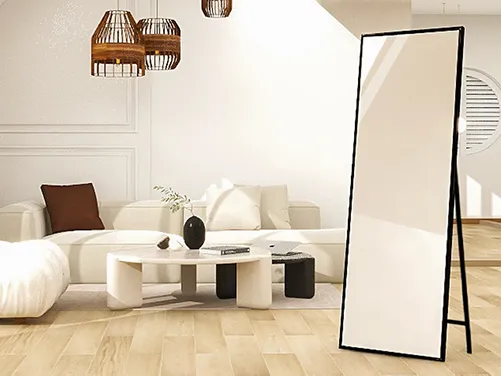 A free-standing mirror is one that is not fixed to a wall or a vanity. Instead, it stands on its own, thanks to a base. There are a few distinct varieties, all of which may bring beauty and functionality to your house while also making your life simpler.
A full-length standing mirror, on the other hand, is one that is many feet higher than it is broad, allowing the user to view their whole height in their image. They function similarly to any other mirror. However, because of their larger size, these mirrors may reflect more light, lighting up a room. As a result, it reflects more of your space, giving it a bigger appearance.
Types of Standing Mirrors
A floor standing mirror is a typical form of mirror that is usually full length or large enough to enable you to see yourself from head to toe. Floor mirrors exist in a variety of designs, shapes, and sizes, but they may be divided into three categories: cheval, classic, and leaning.
Cheval Floor Mirror
A cheval (French for "horse") floor mirror has a dual-pinned suspension within a frame that allows it to be tilted or adjusted at various angles. For walk-in closets, a cheval-style floor mirror is appropriate. No matter what your height is, simply tilt the mirror to see your face clearly. The mirror will adjust itself to your needs.
Traditional Floor Mirror
Traditional floor mirrors give you a full view of your body from head to toe. These can be free-standing mirrors or wall-mounted. These are often installed vertically, but they may also be installed horizontally to create the sense of more space, and a small entry/passageway would be a good spot for this.
Leaning Floor Mirror
Leaning floor mirrors are leaning against a wall with only the top section contacting the wall and the bottom part resting on the floor, as the name indicates. These are commonly utilized as accent pieces in bedrooms, entryways, living rooms, and other locations and frequently come with exquisite or elaborate frames.
For personal usage, there are also floor mirrors permanently installed on the wall or a cabinet door in the bedroom or walk-in closet. Other types are mostly employed as accent items in a space. In many big houses, you will find a standing floor mirror located at the side of a room or immediately next to the front entrance. This works as both a piece of home decor and a way to liven up the room.
Where to Put Standing Mirrors in Your Space?
The stand up mirror, like toaster ovens and super-strong blenders, is sometimes placed into the camp of necessary decor evils—unsightly but much too essential to be fully eliminated. While floor mirrors have improved in terms of design, it may still be difficult to give up a 48″ by 12″ plot of wall space for what is effectively an empty frame. We've gathered some of the best floor-length mirror integration methods from designers to help you make your peace. Floor-length mirrors will seem like an intended style feature in any area, from the living room to the bedroom and beyond, using these tactics.
Avoid anything weak or encased in a less-than-stellar metal for the living room floor mirrors. In the living area, floor mirrors should be substantial. It's entirely up to you whether you want a double-wide large standing mirror or a wall-to-wall mirror.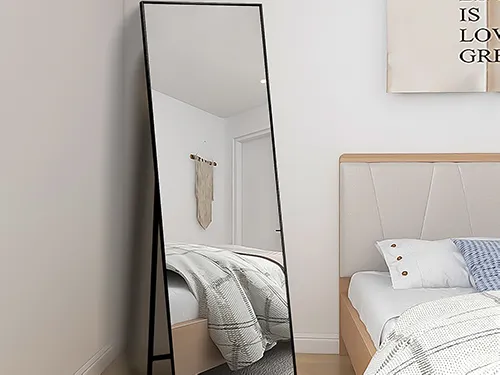 Stand up mirrors are commonly used in restaurants and bars to lighten the space, enhance the effects of candles, and amp up the mood. When all this is taken into account, why not utilize a floor-length mirror in the dining room?
A tall standing mirror in the dining room may be an outstanding pièce de résistance, despite its outlandish appearance. After all, it's not uncommon for dining rooms to have almost no architectural brio—a problem that can be easily remedied with floor mirrors. The key to having floor mirrors work in the dining room, just like they do in the living room, is size. When it comes to designing with a standing mirror for the bedroom, remember to "go bold or go home."
Even though bedrooms are the natural home of floor-length mirrors, fitting one in may be difficult. Especially when other bedroom necessities like dressers and nightstands must be considered. In order to avoid a space constraint, a bedroom standing mirror should be scaled down. Unless you have a lot of spare room, choose a mirror with a lower profile.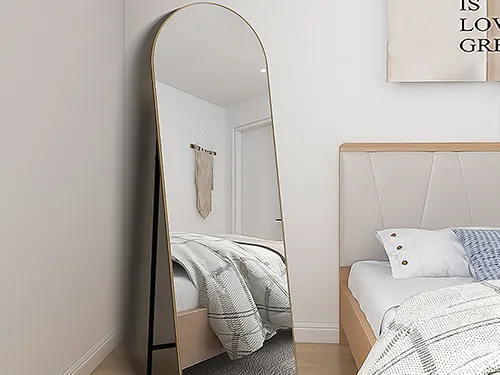 How to Decorate a Standing Mirror
A large standing mirror is the ideal statement piece for any space, in addition to offering you a full-length view of your stunning face and your clothes. A big standing mirror may be hung in the corridor to make it appear longer and more spacious or leaned against a wall in the bedroom to create an immediate dressing area. When hidden behind plants or a sofa, a full standing mirror may help open up a tiny area.
We've picked together the greatest methods to incorporate enormous mirrors into your space, regardless of the style or type of room you're constructing, as inspiration. Find out more in the sections below!
Bring in a Contemporary View
Contemporary bedrooms benefit from the use of floor mirrors as accents. The huge mirror adjacent to this sleek dresser makes getting dressed easier and helps to balance the room's proportions. Consider a floor mirror with a thin black frame to stick with the mod high-contrast motif if you're working with clean-lined furniture in neutral, grey, black, and white.
Two-floor mirrors, concealed between nightstands and positioned on either side of the bed, are also an option. This gives a bedroom a stylish and modern style while also making it seem complete and thoughtful without being too adorned. If your taste is more varied, consider mismatched mirrors of the same size instead of matching mirrors.
Another wonderful approach to incorporate sculptural art into your room is to use floor mirrors with unique forms and motifs. To give depth and counteract the boxy design of bedside tables, overlay a differently curved mirror behind a nightstand in the bedroom, as seen below. Geometrically designed mirrors are certain to become instant discussion starters.
Hang the Stand Up Mirror High
Instead of resting a modern standing mirror against a living room wall, you may place it high on the wall. It's a sculptural alternative to a major art piece that creates a dazzling focal point that's difficult to overlook. If your ceilings are high, this will provide the impression of height and attract the eye upward.
Keep the Stand Up Mirror Minimal
Instead of resting a full length mirror against a living room wall, you may place it high on the wall. It's a sculptural alternative to a major art piece that creates a dazzling focal point that's difficult to overlook. If your ceilings are high, this will provide the impression of height and attract the eye upward.
Where to Buy Standing Mirrors
If you want to add a decorative standing mirror to your space, either in your living room, dining room, or bedroom, you can visit any local dedicated store around your area. In case you are wondering where the stores are located, you can simply visit the internet to get the necessary information that you need. Online stores are also available for you to make your purchase.
Here I recommend Everbetter Mirror. This mirror manufacturer has more than 10 years of experience. There are standing mirrors of any kind. And also accept customized services. For details, you can consult https://everbettermirror.com/.
Conclusion
After covering all that you need to know about modern standing mirrors, you may want to consider getting one for yourself. Get rid of floating mirrors in your home today and get creative with your full-length mirror. Visit the closest store around you, or check out the variety of online stores that are available for you.