Abstract
A comfortable home environment is not only created by the overall decoration style but also formed by the help of the entire furniture and daily necessities. So let's talk about the floor mirrors that contribute a lot to our home life today.
When you have something important to do to make yourself look perfect, you need to check in the mirror that every detail is being noticed. So a full length floor mirror is necessary to appear in our home. Today, there are various large floor mirrors on the market. To simplify your buying process, we've put together a buying guide for floor length mirrors. Let's explore together!
What is a Floor Mirror?
A floor mirror, as the name suggests, is a mirror placed on the floor. You will find that a full size floor mirror is easier to move than a wall mirror. And the length and width of the floor length mirror are larger, so you can see your whole body. A full length floor mirror reflects more light, so it can make your space appear larger.
Types of Floor Mirror
With the popularity of floor length mirrors, it has various shapes, colors, and sizes have appeared on the market. Here, we divide floor length mirrors into three categories to help you choose better.
---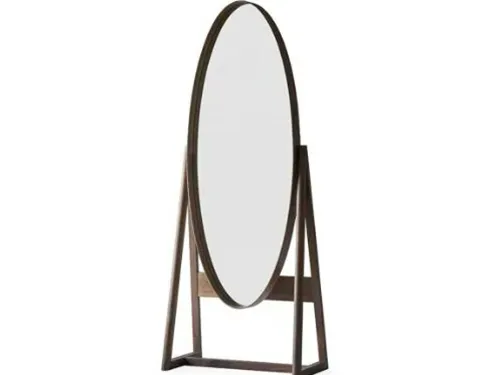 Cheval Floor Mirror
"Cheval" means horse in French. This mirror is called a cheval floor mirror because it has four supporting legs like a horse. This is a very designed mirror. Inspired by toilet mirrors produced in Paris in the 19th century. As you can see, the cheval floor mirror has suspension inside the frame, so it can be easily adjusted to the angle you want. Regardless of your height, just tilt the mirror slightly to get a clear view of how you look.
Cheval floor mirror is a functional and decorative floor mirror. Just need you to prepare enough space to put it.
---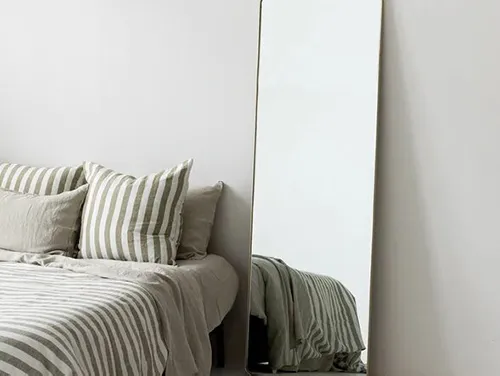 Leaning Floor Mirror
The top of the leaning floor mirror needs to be against the wall and the bottom is on the floor. It has no supporting point. In many homes, you will find it placed in the corner of the bedroom or next to the door. Its style is determined by the framework. Common ones are arched leaning floor mirrors and square leaning floor mirrors.
A leaning floor mirror can be used both as decoration and visually expand the space. Placing it anywhere will make the area appear larger.
---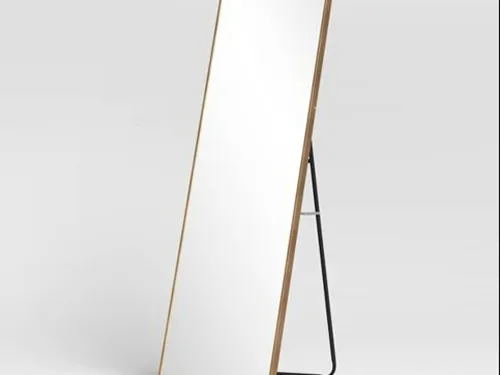 Standing Floor Mirror
Unlike the learning floor mirror, the standing floor mirror itself has support. It's definitely a great addition to any space you have. And you can move the standing floor mirror anywhere you want. You can also observe yourself from head to toe.
---
Things to Remember When Buying a Floor Mirror
Well, so far, you have a basic understanding of the types of floor mirrors. When buying a floor stand mirror, you should consider various factors. Rather, you should make a trade-off between preference and practicality.
Floor Mirror Size and Available Space
The size of your floor length mirror should be the deciding factor in your choice. You can't put it in an unsuitable available space. No matter how much you like a mirror, this is a very practical deciding factor.
Before you buy, you need to choose a space to place your floor stand mirror. Then estimate the amount of free space. In this way, you have a good idea when you choose a floor length mirror.
Shape
In addition to the size of the full length floor mirror, the shape is also important. At present, the most common ones on the market are rectangle floor mirrors, oval floor mirrors, and of course irregular floor mirrors.
Rectangular floor mirrors and oval floor mirrors are the most classic designs, they are suitable for almost all styles of home. Buy a rectangle floor mirror or an oval floor mirror for a classic, elegant look. Irregular floor mirror pays more attention to decoration. But there are also irregular floor mirrors with both design and practicality. Also, keep in mind that the shape of the floor length mirror will also affect its size.
Frame
Different frame materials also show different floor mirror styles. There are wooden frames, iron frames and silver frames. In any case, the frame material showcases the look of the floor mirror. Choosing the right full length floor mirror will give a new look and feel.
Also, most frameless floor mirrors are leaning mirrors. And the person looking for this floor length mirror wants to stick it on the wall. It is worth mentioning that most of the mirrors used in business are frameless.
Thickness
Remember that our large floor mirror only pursues thin and not thick. Thick mirrors can be visually bulky. Thin mirrors are versatile and can complement the ambiance of your space.
In addition, in general, the larger the size of the mirror, the easier it is to break. To make a choice between practicality and functionality, from a professional point of view, it is still necessary to consult the manufacturer or professional who produces the mirror.
Location
I believe you have already chosen the position for the full length floor mirror before you decide to buy it. The oversize floor mirror should be independent. It should be placed in a less stuffed area to avoid being surrounded by other furniture.
If you want to buy a bedroom floor mirror, then I recommend learning about floor mirrors. It will definitely be the focal point of your room. If it is a floor mirror in a living room, then it is best to be a standing floor mirror. Because there are enough furniture and decorations in the living room, the floor mirror should be as classic and simple as possible.
Cost
Whichever floor length mirror you choose, make sure you can afford it. Basically, all websites will show the price of full length floor mirror. A good quality floor length mirror costs $2,000 to $3,000. But there are also relatively cheap, it depends on your own choice. But a mirror is a long-term investment that will serve you for decades or even decades. Most stores are willing to provide you with a cost estimate for the product and shipping charges. You can prepare enough.
Floor Mirror Maintenance
After buying a floor mirror home, it needs routine maintenance. It is important to know how to protect the accessories of the floor length mirror, so as to prevent the second repair of the floor mirror that you paid for.
Keep the Mirror Dry
Wet conditions can damage the mirror. So try to put the floor mirror in a dry place to prevent moisture from invading. Please do not touch with wet hands or wipe with a wet cloth, otherwise the mirror surface will be blurred. If there is dirt on the mirror surface and frame, you should wipe it off with a soft cotton cloth dipped in some kerosene or wax.
Daily Cleaning
The mirror surface should be wiped with a soft dry cloth or cotton.
Or wipe with a soft cloth dipped in some kerosene or wax.
You can also wipe full body floor mirrors and frames with a rag dipped in milk. This will make them clear and bright.
In addition, rubbing with oil-absorbing tissue, the effect is also good.
Don't Put It Too Close to the Door
If your mirror is too close to the door then accidents can easily happen. To avoid hitting the floor length mirror, you want to make sure you have enough space to keep a safe distance from the door.
Be Careful When Moving
Although some large floor mirrors are easy to move, no one wants to scratch it in the process. So if you have to move it, do it carefully to make sure you don't scratch or break it. If it is very heavy then hire a porter to help you.
Ideal Location for Placing a Floor Length Mirror
As we mentioned just now, it should be placed in a location with fewer things. Then take each room into consideration when choosing the best room for your space.
---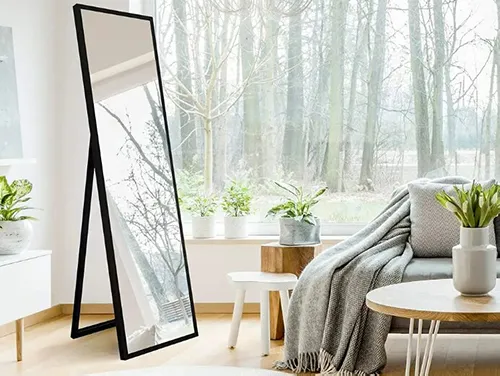 Floor Mirror for Living Room
The corners of the living room are generally placed with some large appliances, such as air conditioners. In this way, it takes up less space and has no sense of existence. Everyone has a love for beauty, especially if there are women at home, they will put mirrors everywhere in the home. In fact, a floor mirror in living room in the corner is very great. It is less conspicuous and will not hinder us.
---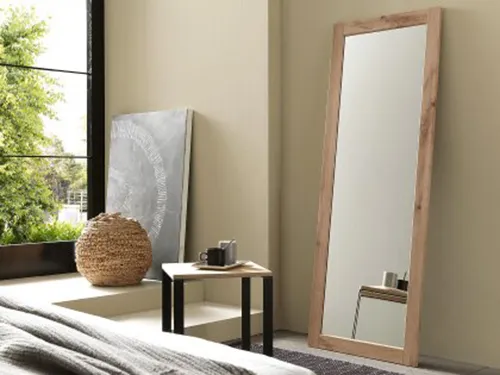 Floor Mirror for Bedroom
Large floor mirrors are generally placed in the bedroom so that you can easily see your daily clothes. A bedroom floor mirror is the most common way. Our dressing up is generally carried out in the bedroom. So a floor mirror for bedroom is also very convenient for us to organize our makeup.
---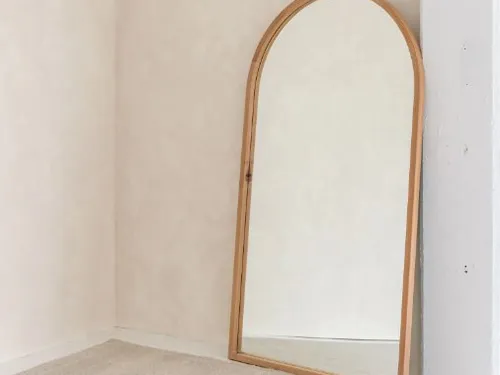 Floor Mirror for Entrance
Especially if your hallway is a bit narrow, then a floor full length mirror can just open up your space. It is best to place it near the door. This way you can implement a final check before leaving the house.
---
FAQs About Floor Mirror
Here I have compiled a few frequently asked questions about floor mirrors.
How to Decorate with Floor Mirrors?
The large floor mirrors come in all styles and in all shapes. Whichever you choose, choose based on the style of your room. As a rule of thumb, black floor mirrors, modern floor mirrors, and rectangle floor mirrors are classic and timeless. And they are also very versatile. Secondly, irregular floor mirrors and oval floor mirrors are very design sense. They are both ideal for decorating spaces.
How to Secure a Floor Mirror?
The standing floor mirror and cheval floor mirror have their own supports, so they do not need to be fixed deliberately. Floor leaning mirrors require you to spend time thinking about this. In fact, some learning floor mirrors can be glued to the wall. If you want to glue the learning floor mirror to the wall, you can do so.
First, wipe the back of the mirror clean and cover it with a wide piece of Scotch tape.
Then stick a thick double-sided tape, which acts as a temporary fixer.
The spacing of the double-sided tape is 300mm, and the glass glue is placed in the spacing of the double-sided tape.
How Big Should a Floor Mirror Be?
Under normal circumstances, the size of the full-length mirror should be larger than half of the height, so that the whole body can be reflected.
There are three sizes of full-length mirrors on the market today, namely: the height is 150cm, 156cm, and 160cm, and the width is usually between 40-50cm. The difference between these three sizes is not large. As for the size of the full-length mirror, if it wants to illuminate the whole body of a person, its height only needs to be half of the actual body of the person in the mirror. For ordinary household use, 150cm×40cm is more suitable.
Where to Buy a Floor Mirror?
When buying decorative floor mirrors, be sure to choose a reliable floor mirror manufacturer. I recommend Everbetter to you. This is a trusted mirror manufacturer. Whether it is consulting or after-sales service, they do a great job. Click https://everbettermirror.com to ask them more professional questions.
Final Thought
What style of floor length mirror do you like? I think you already have the answer in your mind. In our discussion, the size of the floor full size mirror should be paid special attention to. Due to factors such as the size of the space, and the distance between the person and the mirror, the size of the full-length mirror changes with the design technology. You have to choose the right size of floor full-length mirror.
If you don't have a clear goal on how to buy a full length floor mirror, here's a great place to start. This article introduces the precautions for purchasing a full length floor mirror. Hope to be able to help you.