Abstract
Mirrors are usually used for the mere purpose of judging how you look. However, there are many other uses of a mirror that people are unaware of. For example, mirrors can make your place look a lot more breathable and bright. There are different types of irregular shaped mirrors available in the market that have different advantages. In this blog, we're going to discuss a guide for irregular shaped mirrors so you can decorate your place with some of the most beautiful pieces.
What is an Irregular Shaped Mirror?
An irregular mirror means that the mirror is not balanced in shape or arrangement and the light that falls on the surface of this surface reflects in an irregular pattern. But in simple terms, an irregular-shaped mirror just refers to an asymmetrical mirror that has random edges and shapes to add a certain look to a space. Irregular shaped mirrors are one of the most popular trends today.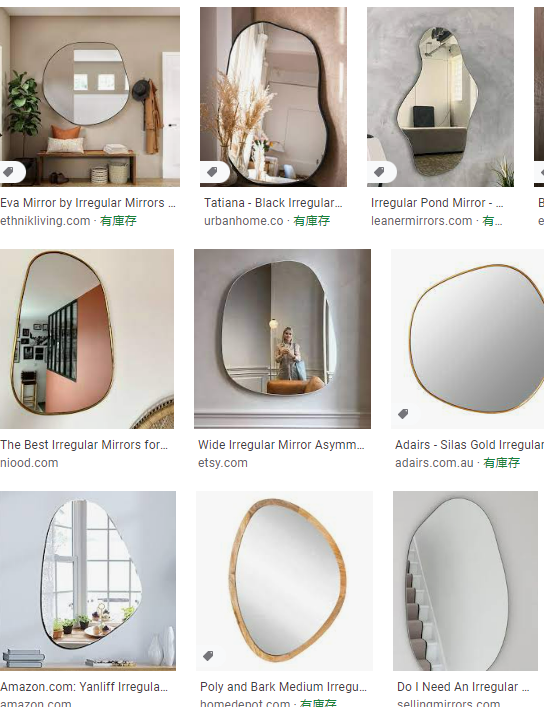 What is the Difference Between Irregular Shaped Mirrors and Regular Mirrors?
As you can see, there is a big difference between irregular mirrors and regular mirrors. The contours of irregular mirrors are more variable. An ordinary mirror frame is a fixed shape. In addition to that, ordinary mirror reflections are highly polished and smooth. And large irregular shaped mirrors do not reflect in a fixed pattern. So when light falls on an irregular mirror, it bounces off the rough surface and bounces off in all directions, not in one definite direction.
Where Can Irregular Shaped Mirrors Be Hung?
There are many possibilities for hanging an irregular mirror in your house. Do not hang it on your dressing table but utilize it in other spaces, such as bathroom living room hallways, or as a decor item to add to your vanity mirror.
An irregular mirror will add a new dimension to your boring spaces as it will give an illusion that your space is bigger than it is. On top of this, a regular mirror will also give an illusion that your space is more lit up as it will reflect light in different directions. Similarly, it will be a great addition to your house because of its minimalistic look – you will not have to adorn your space with lots of things, Just an irregular shaped mirror and alarm will do their job.
However, you can also utilize irregular shaped mirrors in a professional or commercial space. For example, an irregular shaped mirror in a hotel lobby will add a lot of dimensions to the space. Similarly, if you are someone that works in the photography industry, you can use irregular shaped mirrors to create jaw-dropping portraits. It all boils down to how you utilize the pieces. So, think and plan before buying a mirror.
Types of Irregular Shaped Mirror
There are different types of irregular shaped mirrors that you can choose from. Some of them are listed below.
Irregular Wall Mirror
An irregular wall mirror can be placed anywhere in your hallway, kitchen, or bathroom. It is stuck to the wall using an adhesive or any mounting mechanism that will stick it to the wall. There are many frames that you can choose from to add a more sophisticated touch to your wall mirror. Irregular wall mirrors come in different shapes and sizes. You can look online and inside furniture stores to explore some options. However, if you want to stick to the minimalistic vibe, then shapes like circles or triangles would be the best choice. Similarly, depending on the type of wall color, you can choose to include a frame in your mirror. For example, if you have dark walls, then using wood or metal frames would make the space look a lot more well put together. However, if you have wallpapers on your walls, then avoiding the frame on the hole would be a better choice.
Irregular Floor Mirror
Similar to the wall mirror, irregular floor mirrors are used to add a minimalistic and sophisticated touch to your space. However, instead of mounting it to the wall, they are placed on the floor. It can be an amazing addition in a space where you cannot put up wall mountings (rented apartments, etc.). An irregular floor mirror can also add a lot of character to a space with no furniture. Similarly, it will help you take some outfit pictures for the Instagram feed. All you have to do is find the perfect spot with good lighting so that the irregular mirror can do its job.
Irregular Full-length Mirror
Full-length Irregular mirror is used in hallways and shops for a full view. It can make your room look a lot bigger than it is. Similarly, it is used in changing rooms as the space is often cramped, and irregular full-length mirrors can help brighten up the place. You can choose from a wall-mounted irregular full-length mirror or a full-length mirror that can be placed on the floor depending on your space.
Irregular Vanity Mirror
An irregular vanity mirror is usually used as a side piece to your full-length vanity. It can add a nice touch to your overall space with the different patterns and shapes. Similarly, you have a lot of options to choose from when you are choosing a regular vanity mirror. Some mirrors come with LED lights and different frames such as metal or wood. You can choose the most suitable one for you and your space.
Choose the Best Irregular Shaped Mirrors for You
Since there are so many options available when it comes to choosing irregular shaped mirrors, we have prepared a guide for you all, So you can utilize it to choose what is best for you.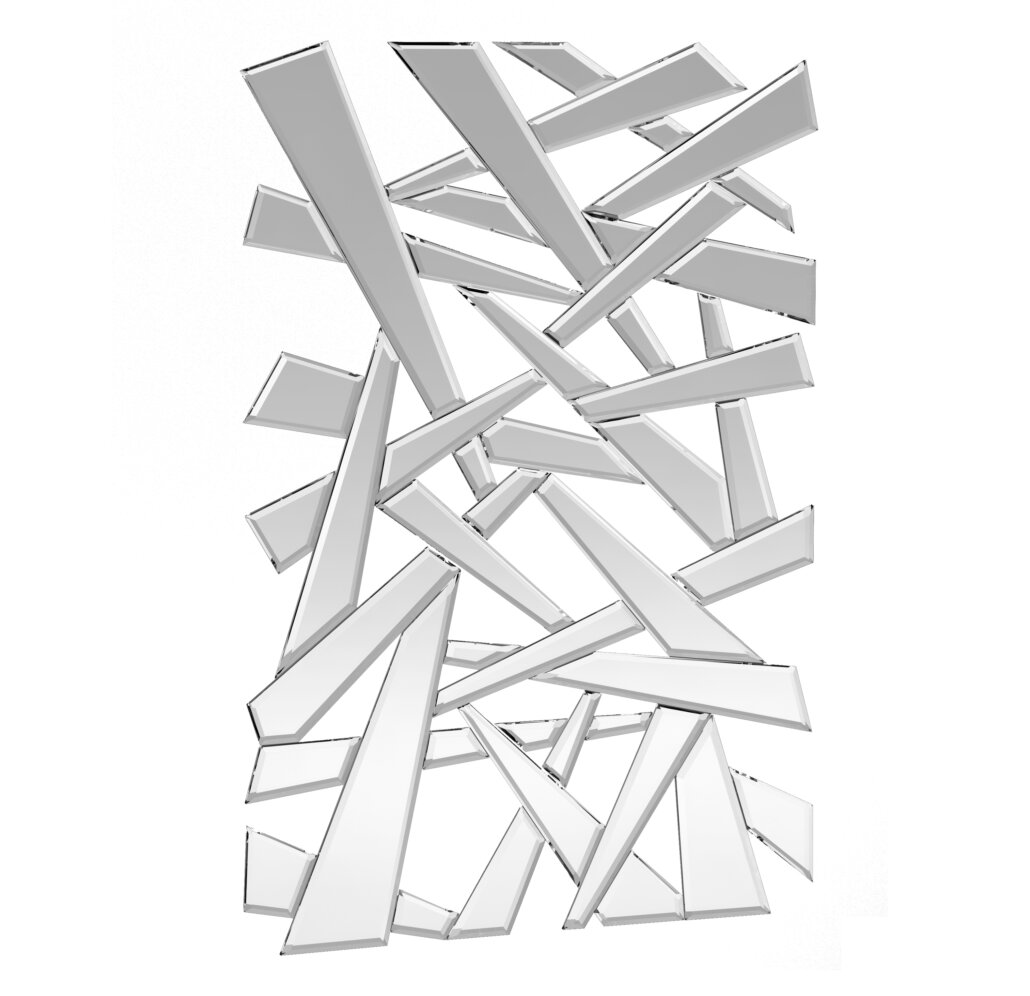 This decorative silver mirror wall is a unique item that can elevate the whole look of your space. Although you cannot use it as a vanity mirror – you can place it in your hallway, bathroom, kitchen, or bedroom wall. The main advantage is that it can make your space look well put together and more attractive. Similarly, it won't take a lot of space in your room but will add an aesthetic touch to it.
2. Decorative Metal Frame Mirror, Hanging Wall Mirror, Irregular Shaped Mirror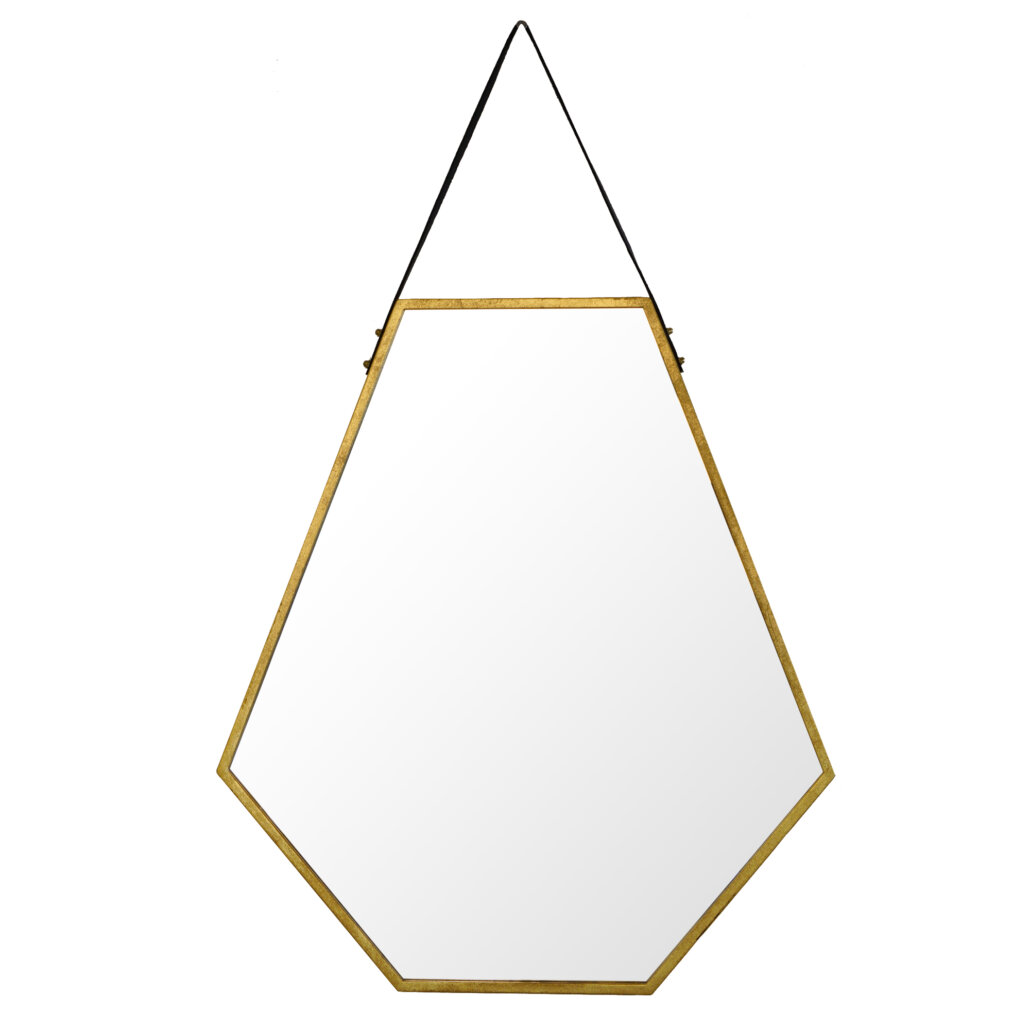 Another beautiful addition that you can add to your space is this decorative metal frame mirror with wall hanging strips. The design of this mirror is unique and different from what you will see in the market. It will look great as an irregular shaped bathroom mirror.
The main advantage of buying this mirror would be that you can use it as a decoration piece and a mirror. So you can add it to your vanity or the hallway, and it will do both jobs perfectly. Similarly, the minimalist touch of the wood frame is a very modern element that will uplift the whole space.
3. Irregular Shaped Mirror, Decorative Metal Frame Mirror, Black Wall Mirror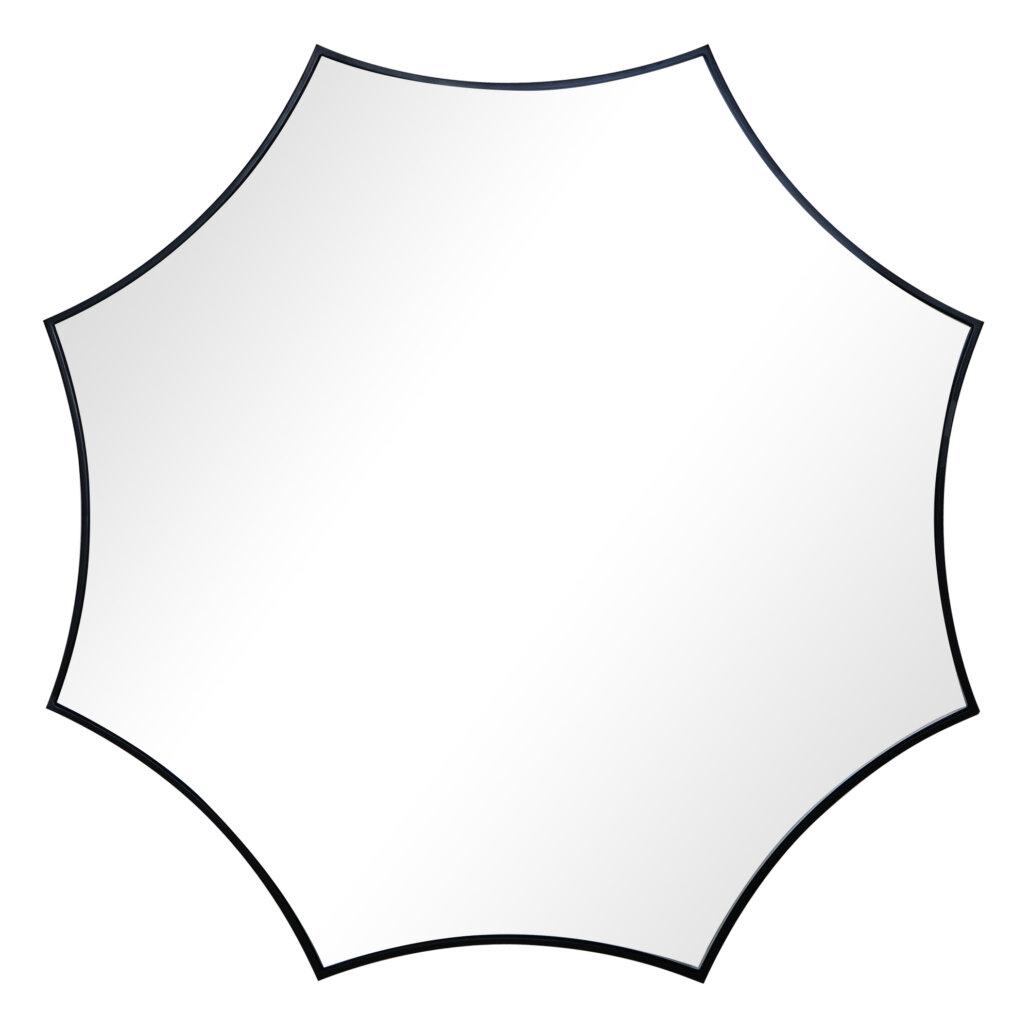 Besides wood, Metal is another material that can add a lot of character to space. Therefore this decorative mirror will be the perfect addition to your wall. The best thing about this is that you can use it as a mirror and a decoration item. On top of this, you can place this mirror in your hallway – Adding three pieces of the same mirror will look aesthetic and well put together without putting in a lot of effort. Especially if you have gray walls, then this black irregular shaped mirror with a metal frame will elevate the whole look.
4. Irregular Shaped Wall Mirror, Decorative Mirror, Silver Wall Mirror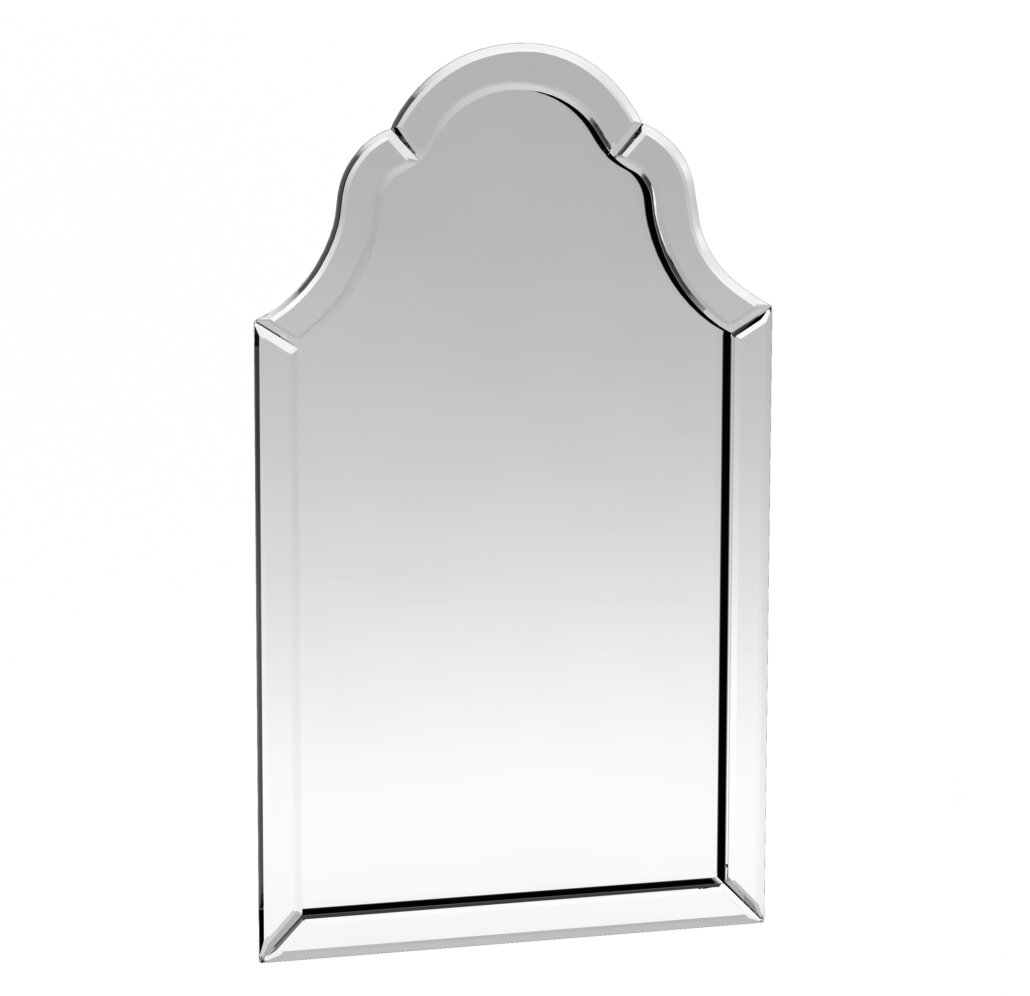 Although modern decoration pieces are trendy at the moment, all thanks to the minimalistic era. However, you can add a minimalistic touch to an antique design and still make it work. This silver wall mirror is in a pitta me of this concept. The silhouette of the mirror looks like something from the 60s, but the classic silver color and defined edges made out of metal add more than touch to it. Therefore if you are a proponent of keeping the antique pieces alive but still want a touch of modernity in your space, then this piece will be the perfect addition to your space.
You can place it anywhere in a hallway or on a bathroom wall. However, the best use of this piece would be to stick it on a door as it gives off the vibe of a window. Similarly, you can place it on the shelf or across your bed/desk. Just make sure that the wall behind it is clean so that it can complement the mirror.
Final Thoughts
A lot of people think that decorating your place is a hard task. However, if you work smartly and add pieces that are reflective of your space, then you can make anything work. An amazing addition to your space can be an irregular shaped mirror mainly because it will add a lot of character to your space while also making the space look a lot bigger and brighter.
Especially now that people live in apartments that are crammed due to urbanization. Irregular shaped mirrors can make the whole space look more breathable. You can choose from the options available; for example, large irregular shaped mirror or a small one.